The Shop
Stitch 'N' B…h in time is located in the New Romney High Street in Kent. New Romney is a capital of the Romney Marsh, or as some call it, the Fifth Continent. The uniqueness of this part of the world fits in well with the character of the shop. Sabine Winter – the owner – contributes to the varied businesses in the New Romney High Street with her cosy and very welcoming craft & wool shop, offering a top quality yarns and other craft products and accesssories.
You can call Sabine on 07958 427 853
to order and securely pay over the phone.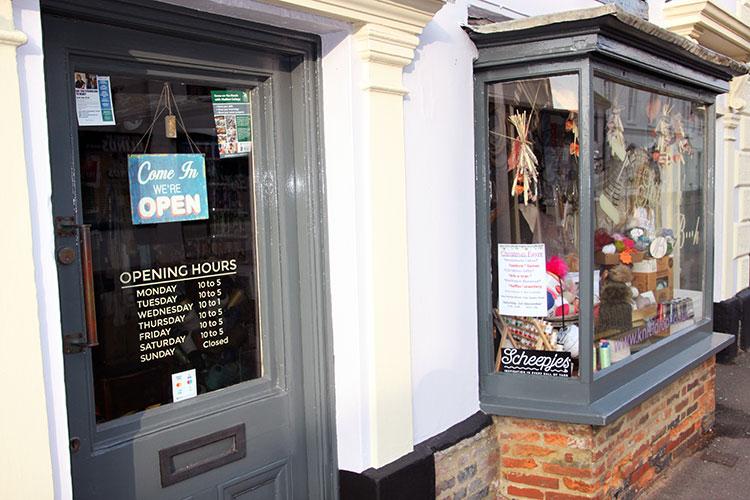 Some of the brands in stock include:
Adeles Mohair
Adriafil (Italy)
Araucania
Artesano
Belinda Harris-Reid
Buffalo Gold
Cascade Yarns
Crochet Thread
DMC Top This hats
Erika Knight (100% natural)
Filpucci
Habu Textiles
Ice Yarns
Jamiesons Rare Breeds
King Cole (Alpaca Chunky)
Lilypond Yarns (hand dyed in Devon)
Malabrigo
Manos del Uruguay
Mollycoddle
Mirasol
Razzle Dazzle
Retwisst T-Shirt Yarn
Rowan
Rozetti
Schachenmayr
Scheepjes
Schoppel
Sirdar (cashmere merino + merino)
The Blue Brick
The Buffalo Wool Co.
The Knitting Shop
The Linen Thread
Wollyknit Crafts
Wool and the Gang (recycled plastic, recycled denim, Ra-Ra Raffia)
The fibres in stock are:
Alpaca
Aran
Bison
Buffalo
Cashmere
Cashmere Merino
Cotton
Linen
Merino
Silk
Accessories:
Bamboo Needles (size 2 -10)
Books
Embroidery Threads (DMC, Anchor and various others)
Ergonomic Crochet Hooks
Fat Quarters
Knitting Needles (plastic/metal)
Magazines
Metallic Embroidery
Mini Crostage
Mouseloft
Ribbons (wide/thin)
Pom-Pom Makers
Pom-Poms
Sewing Threads
Threads
Variegated and Standard Cotton
Wooden Crochet Hooks
Haberdashery:
Buttons
Elastics
Needles
Pins
Seam Rippers
PLEASE NOTE: If you would like to purchase a product that is not in stock, Sabine is very happy to order it on request at a very reasonable price.